EDITION
Untie to Tie - Colonial Fragments in School Contexts
Editorial Direction:
Aïcha Diallo / Annika Niemann / Miriam Shabafrouz
Remnants of colonialism continue to mark the social norms still found in school curricula and textbooks today.
These ties to the past find expression within structural racism as experienced by so many school children every day—in the schoolyard, in countless classroom interactions, and through that which is not revealed, spoken or conveyed.
This anthology explores these colonial continuities and their effects on discourse, imagery, and the politics of language. Embedded in the arts, education, and social sciences, the authors aim to counter these persistences through alternative representations and striking new perspectives.
infos : untietotie.org
READ Edition : PUBLICATION ONLINE
Authors and Artists:
Josephine Apraku, Jule Bönkost, María do Mar Castro Varela, Nikolaj Jesper Cyon, Dalila Dalléas Bouzar, Jean-Ulrick Désert, Marlene Dumas, Merih Ergün, Ndèye Codou Fall, Saraya Gomis, Leila Haghighat, Stacy Hardy, Devin Hentz, Moshtari Hilal, Rangoato Hlasane, Claudia Hummel, Rajkamal Kahlon, Prabhakar Kamble, Belinda Kazeem-Kamiński, Annette Krauss, Seloua Luste Boulbina, Elina Marmer, Sunanda Mesquita, Karen Michelsen Castañón, Babacar Mbaye Ndaak, Sofía Gallisá Muriente, Neo Muyanga, Nadja Ofuatey-Alazard, Wura-Natasha Ogunji, B'net Rahal, Juliana dos Santos, Sumesh Sharma, Thiago de Paula Souza, Pascale Marthine Tayou, Ferdiansyah Thajib, Malick Welli, Aram Ziai
.
.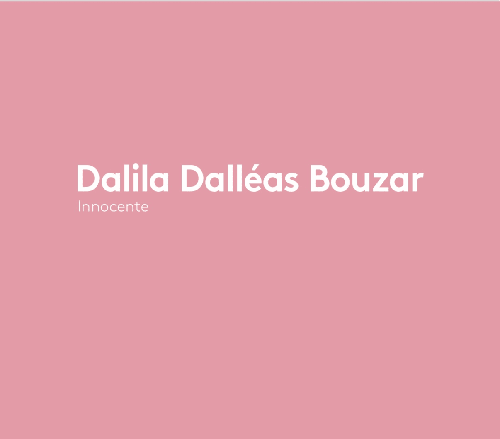 Édition du catalogue d'exposition INNOCENTE
Bilingue français/anglais, couleur, 104 pages
Auteurs : Elsa Guily, Charlotte G. Reynders
Prix 20 €
READ Edition : Cecilefakhoury.com
.
.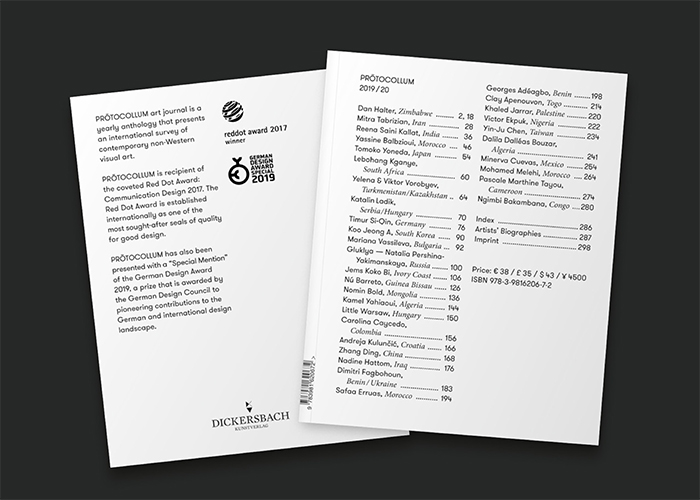 Protocollum-6th-issue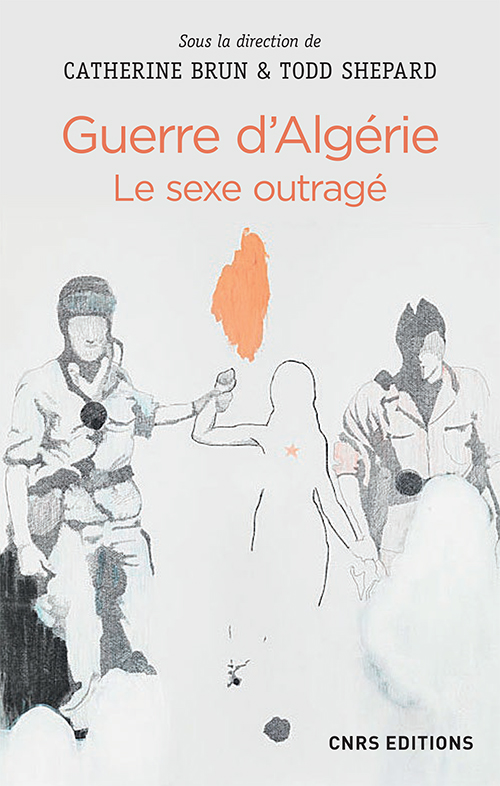 Couverture tirée de la série de dessins Algérie Année 0 réalisée en 2011-12
Les représentations sexuelles sont omniprésentes dans les figurations de la guerre dite « d'Algérie » côté français, « de libération nationale » côté algérien. Viols, tortures, émasculations, commerce des corps : cet ouvrage, qui mêle histoire, littérature, arts plastiques, anthropologie, psychanalyse et sociologie, interroge le rôle de ces actes dans l'imaginaire du conflit, dans sa mémoire, dans l'organisation de la nation. Il invite ainsi à reconsidérer la question de la violence coloniale.
Plus qu'une étude historique des exactions pendant la guerre, cet ouvrage se veut une analyse de l'omniprésence de la question sexuelle dans ce conflit, visant à féminiser l'ennemi et surviriliser le pouvoir.
Discipline : Histoire - Publication date : 06/10/2016 - Auteurs : Catherine BRUN, Todd SHEPARD
ISBN : 978-2-271-09339-4
//
//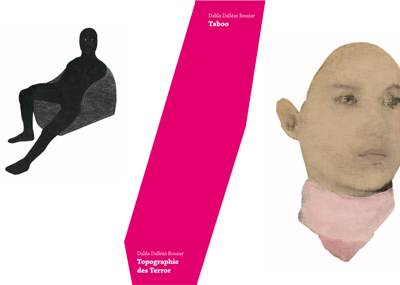 Taboo/Topographie de la terreur
Monographic Catalogue edited by Goldrausch Künstlerinnenprojekt art It, 2013.
//
//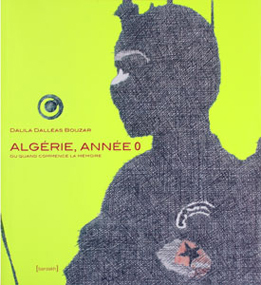 Algérie Année 0 Ou quand commence la mémoire
Book edited by barzakh, about a drawing project about memory in Algeria with a lot of texts, 2012.